Migration Agent Gold Coast CRAWFORD MIGRATION                                                          
                LIVE  WORK  PLAY
Your Migration Agent on the Gold Coast and servicing Northern Rivers of New South Wales
Welcome to Crawford Migration - Your Gateway to a Better and more Powerful and Effective Migration Result
Are you looking for a migration agent on the Gold Coast, or Northern NSW? Look no further! Crawford Migration is your dedicated migration agent, committed to turning your immigration tasks to their most positive chance.
Why Choose Crawford Migration?
Experience Matters
With over 9 years of experience in the migration industry, we have successfully worked with businesses, individuals and families of many national backgrounds work through the complex process of visa applications based on the Gold Coast but servicing all areas of Australia. Our migration has access to a team of highly experienced expert migration agents via Migration Institute of Australia professional support. We have been with the Migration Institute of Australia for 9 years. We have library access to all Australian immigration laws and regulations, ensuring a smooth and efficient application process for our clients.
Personalized Approach
At Crawford Migration, we understand that each client has their unique situation and we take a personalized approach whenever needed, to address your specific needs and concerns. Our migration agent works closely with you, providing tailored solutions to make your application process as seamless as possible.
Comprehensive Services
From initial consultations to visa applications and visa grants, we offer a comprehensive service to meet all your migration requirements. Our services include:
- Initial Consultation 1 hr ($250.00 by appointment).
Our experienced migration agent will consult with you and determine your eligibility to sponsor, nominate, or apply for a type of visa. Our agent may discuss documents that you may need to move forward with the application. Our migration agent can also explain about the application process, ensuring accuracy and compliance with Australian immigration laws. We need to ask you questions regarding your age, visa application history, character history, work experience and possibly family structure and travel movements.
- Document Preparation (Pay 50% of Quote total fee, the amount will depend on your individual situation, then you sign our agreement of services and a 956 Form Appointing Crawford Migration as your migration agent). Our agreement includes anticipated costs, our commitment to you and your obligations towards us.
We then issue you a receipt of payment and a complete documents list to help us get started. We assist you gather the information and fill in all the online forms. You may still need to fill in some of the forms yourself as well as have documents witnessed. If police checks are required, we will give provide you with the contact details, and you will fill in the application forms for the police certificates that we need. documentation, leaving you with more time to focus on your exciting journey ahead.
Legal Assistance
We are migration specialists, but our network includes include legal professionals, who can address any legal complexities and ensure the possibility of performing a migration process.
Settlement Support?
We do not offer settlement support in our services. We only deal with immigration matters, so settlement support will need to be found somewhere else, if you require it. We can suggest a few places that may help you out.
Discover the Gold Coast and Northern Rivers NSW Advantage
Vibrant Lifestyle
Immerse yourself in the vibrant and laid-back lifestyle of the Gold Coast and Northern New South Wales. With stunning beaches, and coastline, world-class entertainment, and a thriving cultural scene, the coastal city and towns offer a perfect blend of leisure and exciting activities.
Skilled Visas and Economic Opportunities
The Gold Coast and Northern New South Wales boasts has a thriving economy with diverse job opportunities including highly skilled occupations. This is why we are specialist in high skilled occupations and skilled visas, for example, pharmacists, doctors, dentists, medical occupations, business owners and technical tradesmen, IT workers as well as teachers. We specialize in skilled visas for these industries. If you are a business wanting to sponsor or nominate workers or a worker seeking a visa, call us for a free 10 minutes' chat or make an appointment.
Partner Visas, Child Visas and Family- Friendly Environment
The Gold Coast and Northern Rivers areas are a family-friendly environment. We are experts in Partner visas and child visas as well as Australian Citizenships. We have a very high (100%) success rate for partner visas who has started their visas with us. Only difficulties that have occurred is when clients have tried to do a partner visa by themselves or trusted an unregistered migration agent from overseas. Unfortunately, we have seen several cases like this and have had great difficulty catching up with invalid or problematic applications. We suggest using the services of a registered migration agent throughout the process.
The Gold Coast is renowned for its excellent educational institutions, recreational facilities, and a safe community that welcomes people from all over the world. We can process large numbers of student visas and we have knowledge about the colleges and universities on the Gold Coast and in Brisbane. We can also process student graduate visas to help students gain work experience in Australia.
Bridging Visas
We have a good knowledge of bridging visas to enable you to stay legal and even work in Australia.
Get Started with Us Today
Call us for a free 5 to 10 minute's chat or email us. Then we hope you will make an initial 1-hour appointment $250 in advance. You may bring your documents with you to scan for the visa matter. If you are a business, we can alternatively visit your business for a 1-hour appointment fee of $450 payable in advance.
Summary of Initial Consultation Prices with us - Available by phone/face to face or teams
5-to-10-minute call free chat about eligibility for a sponsorship or visa application.
1 hour $250 eligibility consultation by appointment only.
1 hour $450 eligibility consultation visit to business within 150 km of Gold Coast.
1 hour $650 eligibility consultation visit to business over 150km of Gold Coast but within Australia.
Contact Information
Crawford Migration
8 Tudor Court,
Currumbin Waters,
Queensland,
AUSTRALIA
m. 61 + (0)447 282 361
Email: visa@crawfordmigration.com.au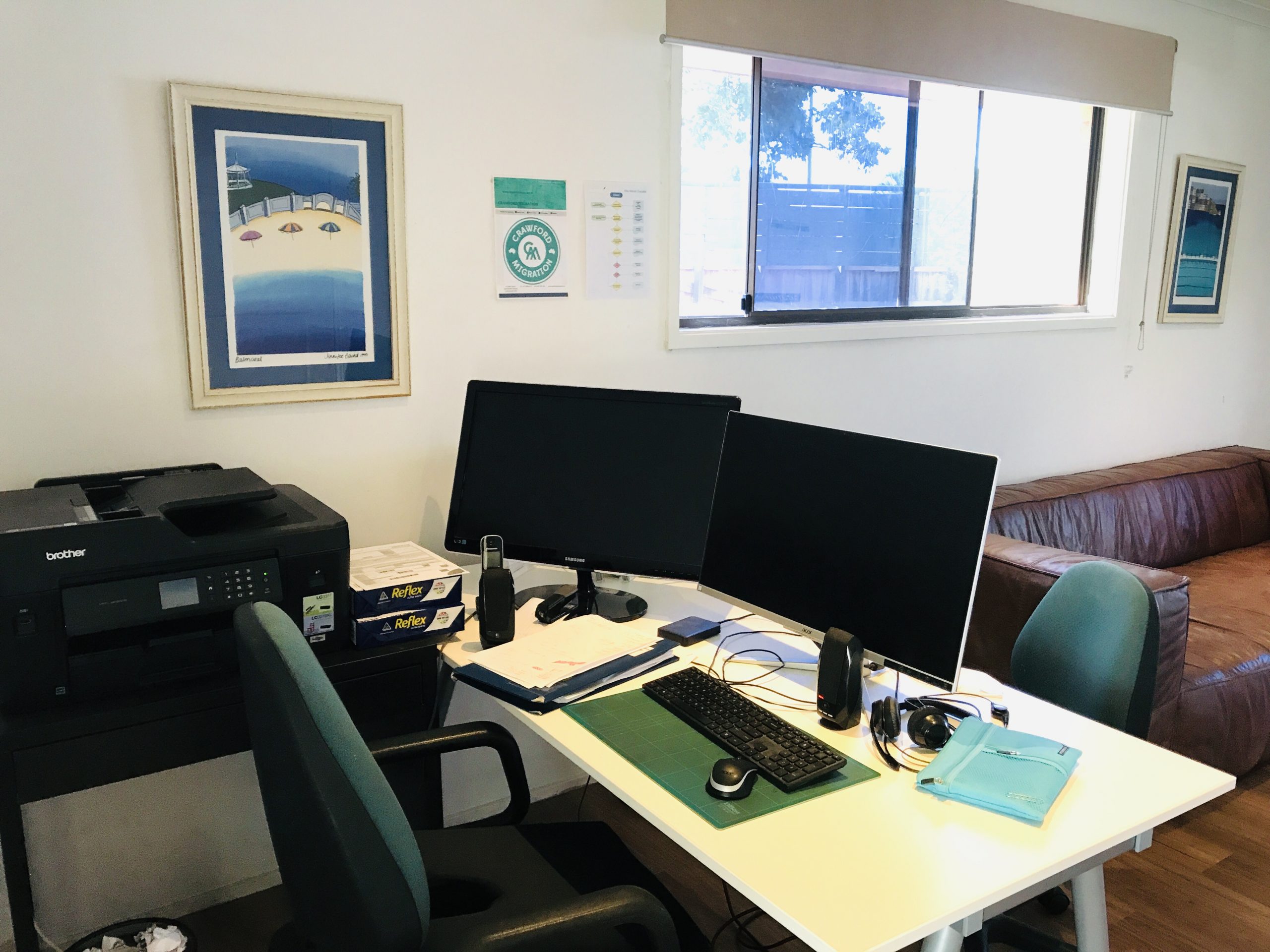 MARN (Migration Agent Registration Number) 1467096
LIVE WORK PLAY IN AUSTRALIA